Why Use Trigger Sprayer?
Soon after the Second World War (1945), plastic manufacturers began to use plastic materials to develop different types of spray pumps. This allows different commercial and household liquids to be used cheaply. The powerful trigger spray pump is also developed using plastic and now has a series of beautiful designs, styles, colors, and safety features.
Many household cleaning products are packed in spray bottles, and spray bottles are usually designed to make it difficult for people to get the last bit of product. Not only that, the nozzle will be clogged, and the spray mechanism itself will stop working. Many of these problems can be corrected, so you don't have to buy a new bottle of product, you can save the empty bottle and use it again.
Trigger sprayer applications
Trigger spray pumps are used in various liquid applications. The most popular should be cleaning products. These include disinfectants, soap, and cleansing foam. Trigger sprays can also be used in hair products such as hair sprays and gels, and powerful cleaners such as stain removers or alloy wheel cleaners. The medical industry also uses it for pain relief products. In fact, you may find that trigger sprayers are used in certain types of solutions in most industries.
Child safety features
We all know that some liquids are fatal to young children. If the wrong nozzle is used, they can inhale chemicals, or certain liquids can burn the skin. Child safety is very important when choosing your trigger pump. Here are the top 4 child safety tips:
1. If these chemicals are toxic to the lungs, consider using foaming agents.
2. Most trigger sprayers have a twist lock on the end of the nozzle. This is a perfect solution for young children.
3. Some trigger sprayers have a quick-click screw cap. This design is difficult to disassemble.
4. The trigger sprayer can also be equipped with an on/off the clip that slides into working and non-working modes.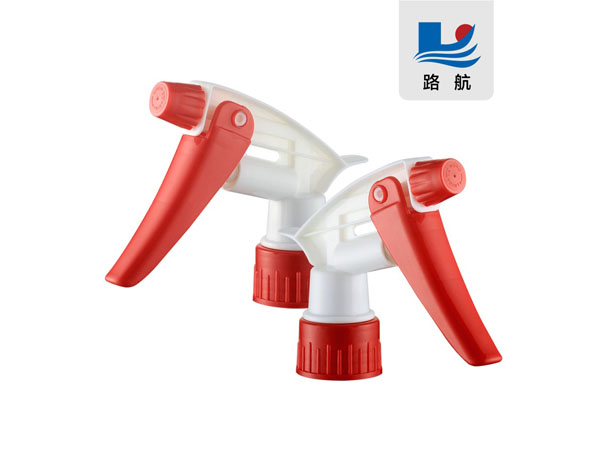 Trigger Sprayer
Why use a trigger pump sprayer?
The trigger sprayer consists of a simple plastic squeeze pump handle, which can be mounted on plastic bottles of different designs. They have several benefits for consumers.
Easy to use
Child's safety
Cheap
Reusable
Recyclable
Excellent designs
Color matching options with your brand.
We are trigger sprayer suppliers. Please feel free to contact us if you are interested in our products.